You need support? We are happy to help
You want to please a colleague, a friend or a relative and send a greeting card with several people together?
Here we explain briefly and simply how Ocardoo works!
Choose a greeting card that is suitable for the occasion and that you like


Pay for your greeting card easily and securely via PayPal, Klarna or credit card.


Enter your contact details and the details of the person (recipient/gratuitant) who is to receive the greeting card in the space provided.
You enter the date and time when the greeting card should be delivered.
Here you can also specify whether you want to look over the greeting card again before it is automatically sent to the congratulator/recipient.


If you want to create and design the greeting card with more than one person, enter the contact details (name & email addresses) of all the people you want to participate in the next step.
Please make sure that the e-mail addresses are entered correctly and completely.
If the e-mail address is entered incorrectly, this person will not receive the link and will then not be able to participate in the design. That would be a pity.


This group of people will then automatically receive a link from Ocardoo and an explanation by e-mail.


You also have the option of copying the hyperlink and sending it directly to your contacts (e.g. e-mail or WhatsApp).
These people can now contribute to the greeting card. This is very simple and intuitive.
Everyone can design their own page on the greeting card. Be creative and let off steam.

Once you have booked the basic model, you can upload photos and enter text.
With the premium model, video and audio files can also be uploaded.


The person who orders and pays for the greeting card has the opportunity to look over it before it is sent and delete any content if necessary.


The card will be sent on the day you have selected. The greeting card will only be sent digitally by e-mail as a hyperlink!
Only the people you share the link with will have access to your greeting card. Also our team will not look into your greeting card without your explicit consent. 
The data you provide us with is safe with us, as we work in a strictly DSGVO-compliant manner. We use them exclusively for order processing. We do not use your data for any advertising purposes or similar and do not pass them on to third parties who are not necessary for the provision of services.
No! We only use them to process the order placed.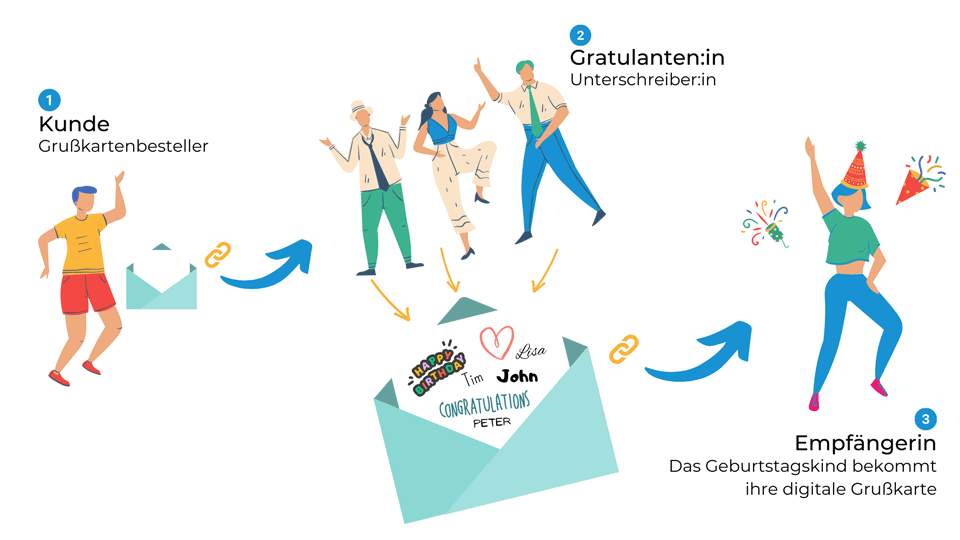 Would you like to contact us?
Contact form